We are running four exciting skills competitions on our site next week.
This means our learners will be training and then competing in one of four themed competitions, to learn new skills and build confidence. Yesterday the competitions were pitched by tutors to the learners. Each theme was presented, and learners got an outline of what the training and competing would look like.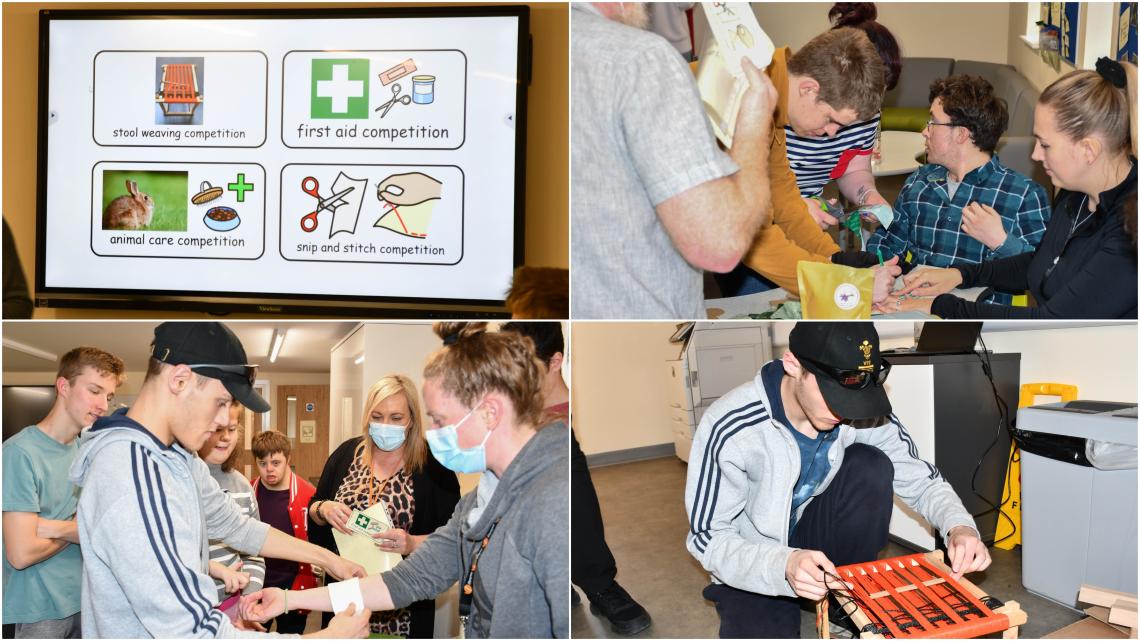 Inclusive Skills: First Aid
Focusing on minor injury treatment, equipment assessment and preparation this competition compromises of three activities:
First Aid Box Checklist
Wound Severity
How to Clean a Wound
"I have chosen to do first aid because I want to help people" Ellie, First Aid Competitor
The competition covers many useful skills from basic hygiene, decision making, different types of accidents and crucially, how to keep calm and respond.
"I've enjoyed creating a competition brief that reflects the ability of our learners and allows them to achieve." Charlotte, First Aid Competition Leader
Inclusive Skills: Snip and Stitch
In this competition, participants will be assessed on the accuracy of their sewing skills and the overall construction of a textile creation, with a focus on up-cycling items. Competitors will take part in two activities:
Transfer a shape onto two pieces of fabric ready to be sewn.
Create a 3D textile item, by stitching the two pieces of fabric together using a pre-threaded needle, add filler and close the gap.
This competition builds creativity, dexterity and confidence.
Inclusive Skills: Animal Care
This competition is designed to develop awareness regarding how to care for a rabbit. The scope of the competition enables learners to develop and put into practice a variety of skills.
Competitors will:
Design a poster demonstrating adequate housing and dietary requirements for a rabbit.
Provide a practical demonstration of how to handle, groom and carry out a health check on a rabbit appropriately and safely.
Taking care of animals is useful for those learners who have a pet, it also installs a sense of responsibility to correctly care and nurture a living creature.
"I chose animal care because I want to brush the rabbit." Ethan, Competitor
Inclusive Skills: Stool Weaving
This competition will run on three levels. Level one competitors will weave a simple stool top, working on a frame.
Level two competitors will work on a chequerboard pattern. The weave starts with the end being tied around one of the stool legs. The weaving material is passed under and over five times and then five times around one bar. The material then passes under the bar diagonally to the opposite side, where a further five are wound. This continues until the top is covered.
Level three competitors will compete in two heats, firstly constructing the stool frame, before weaving the top of the stool, following the same chequerboard pattern as level two competitors.
Weaving is an activity that inspires creativity and improves coordination. The repetitive process of using the weaving looms is also good for mental health, providing a sense of calm.
"I am so impressed by the competitions that our team have designed! They are interesting, creative and focused on many skills that will benefit our learners hugely. The week is set to be fantastic, there is a real buzz from everyone on site." Geraint Wadley, Head of Education & Training
So the learners have made their choices, and the tutors are ready. Training will commence on Tuesday 9th May. We'll be welcoming judges to site once the competitions get underway, and will share a little more about the judges and their involvement later this week.