Friends, family and staff will be cheering Ed on this weekend as he competes in his first triathlon. On Saturday 10th July, Ed, one of our Inclusive Lives residents, will be taking part in his biggest sporting challenge yet! Ed joined us here at Elidyr Communities Trust in 2014 with a healthy interest in sport and fitness that came from his family. He has taken part in the Pembrokeshire Triathlon, riding in the cycling leg of a relay with 'Team Coleg' every year since 2015.
Ed loves the event and the camaraderie and, although it is a serious competition with top athletes taking the lead, the organisers have always been welcoming and made adjustments to adapt to Ed's needs.
At Elidyr Communities Trust Ed has been encouraged to swim regularly but it was during his time at home last summer throughout the Covid lockdown that he started running with his brother and the idea of him taking part in the full triathlon was formed.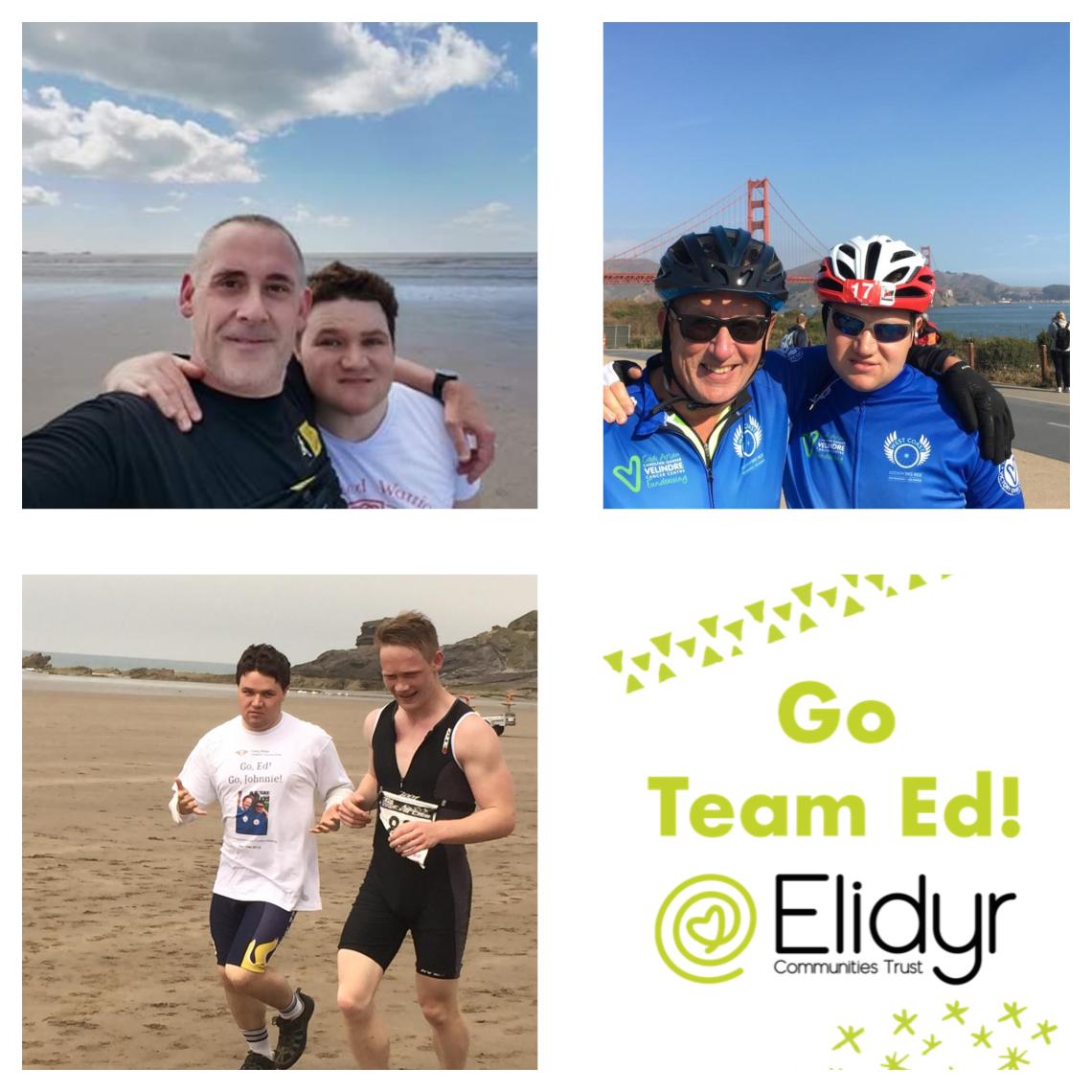 On returning to us after lockdown and with the help of staff and fellow residents, Ed started training, gradually building up to the big day with runs and bike rides in the surrounding countryside, mountain walking with a backpack to build strength and stamina and swimming up to 38 lengths in Llandovery swimming pool.
Ed has competed in many other cycling events over the years including the Carten Charity ride 3 times and in 2018 rode alongside 50 other riders from Wales, from San Fransisco to LA raising over £250k for Velindre Cancer Centre. He has loved these events and the experiences they bring and has made great friends along the way who have supported him in his next challenge.
Ed and his family would like to thank everyone involved with supporting this challenge including family and friends that compete alongside Ed, with special mention to Neil Harris (Gym Tutor) Gilly and Russell (Inclusive Lives residents) 
Over the last 6 years Ed has raised over £20,000 in sponsorship from this event and is hoping to raise more than ever this year. At the time of writing he's raised over £5,600.
If you'd like to support this fantastic achievement visit Ed's Just Giving page to make a donation. 
Ed can be very determined. If he gets it in his mind that he's going to keep going and not stop, then he keeps going!

Neil Harris - Gym Tutor